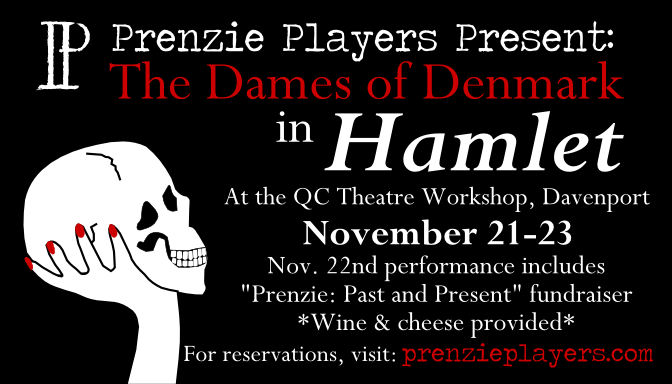 Prenzie Players is excited to be hosting The Dames of Denmark: four talented actresses (perennial Prenzies Cait Bodenbender, Stephanie Burrough, Maggie Woolley, and Denise Yoder) who will each play multiple roles in one memorable production.
For one weekend only, these remarkable women will be bringing you an original edit of William Shakespeare's Hamlet:
November 21-23 at the QC Theatre Workshop. (Reserve Now!)
In addition to the show, please join us on Saturday, November 22, for a special fundraising event. "Prenzie: Past and Present" will take a look at our past through photos, props, and costumes from past shows. To see what Prenzie is up to in the present, you will also have the opportunity to catch a sneak glimpse of the rest of Season 13 as Prenzie Goes to Rome! Doors open at 6:00 with curtain at 8pm. Come enjoy wine and cheese and chat with us about our past and present. The evening will be led by Cait Bodenbender, a founding member of Prenzie Players and the Dames of Denmark. If you choose not to attend the fundraiser doors are at 730pm. (Reserve Now!)
You will find us at the Quad City Theatre Workshop, 1730 Wilkes Ave, Davenport, IA.
Parking is available just off Locust St. on the west side of the Institute of Therapeutic Massage and Wellness. The lot is accessed by turning south on Howell. Proceed half a block and turn left to enter the fenced parking area.
Doors open 30 minutes prior to curtain. Tickets: $10 on Friday/Sunday and $20 for Saturday's fundraiser, curtain at 3pm on Sunday and 8pm on Friday/Saturday. Tickets are available at the door, by email at tickets@prenzieplayers.com, by phone (563) 484-4210, or right here on our website. Seating is limited.